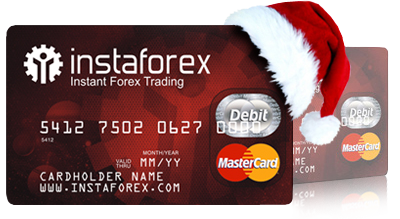 The international broker InstaForex has prepared a very pleasant Christmas gift for its numerous clients! Each InstaForex trader can get the unique InstaForex MasterCard absolutely for free! To obtain the card you just need to fill in the application form for InstaForex MasterCard, and soon you will receive the individual plastic card.
It is associated with the account in a foreign bank (South America) and can be used as the universal method of funds' withdrawal from a trading account with InstaForex anywhere in the world. All operations with the pre-paid card are totally confidential, no information is provided to a tax or regulatory authority of any country.
With the help of InstaForex MasterCard you will be able to withdraw the funds directly to it from your InstaForex trading account within 24 hours.
Thus, using the debit card from InstaForex – MasterCard – you will get a straight connection between the trading account in InstaForex and cash funds. Thanks to InstaForex cards Forex accounts has never been easier to use.
You can order a MasterCard from InstaForex Company in the Client cabinet.
One InstaForex – MasterCard can be used for different trading accounts, registered in your name.
Kindly share this post at your Twitter, Facebook or Digg it 🙂